How to Speed Test?

Why am I getting poor Speed Test results, is my home broadband ready?
FiberCast delivers Internet connectivity using Fiber Optic cables and unlike DSL or Cable Coax services connectivity using optical wires either works or don't (with an exception of malfunctioning ONT which is a rare instance).
There are many components come together when you are accessing to Internet which is also true for running speed test applications. When you request a speed test to be performed (we suggest using speedtest.net), you are downloading and then uploading a file from your device to a speed test server on the Internet. If your service speed is UltraFast Gig, you should be able to achieve about 950 Mbps (up to 10% of Ethernet connection is used for packet headers) on both download and upload when a hard wired Gigabit Ethernet is used. However that will be depending on your computer's speed and quality (typically what is called a gaming computer will achieve full Gigabit speeds). Another important factor that effects the speed tests will be the speed test server your device is performing the test against, where majority of the speed test servers has only 1 Gig connectivity to Internet as majority of the Internet users do not have Gigabit Internet which is changing slowly but upgrading those servers will take time for those providers. This will change your speed test results depending how many others are testing at the same time as you are.
Our service delivery is at the Gig Ethernet port on the ONT and after that point your own internal home network takes over and distributes the Internet through your home. This is usually the problem section based on our experience if your home is not ready for those speeds we deliver as majority homes up until now were not build for broadband (the house probably have existing Coax for TV or CAT3 for telephone wiring, but not high speed data where the broadband speeds need to use proper data cabling like CAT6 Ethernet wires to reach those locations where the Internet used the most).
In order to take full advantage of the speeds we deliver, you will need to upgrade your home wiring with CAT6 or better wiring to make your home broadband-ready so you have the best experience. We know it is not an easy task, but at least a single CAT6 data wire from the basement (assuming that is where your utility demarcation point is and where the ONT is installed) to a central location in your home where the Internet will be used the most. This will allow you to place your Wireless Access Point (WAP or WiFi AP) at that central location so your wireless devices do not have weak signal which will have a direct impact on speeds and reliability. It is also recommended to use wireless for those portable devices only, and hard wire those permanent devices via Ethernet (eg: TV, Gaming Console, Personal Computer, etc).
If you want to rely on wireless connectivity, please make sure your WiFi AP is NOT placed in the basement, and rather placed at a central location of your home where the Internet is used the most. Quality of the WiFi AP will also impact your experience, where those single band WiFi units are thing of the past. You want to use those WiFi APs has multi core CPUs and support WiFi-6 standard. When connecting your device to your WiFi AP, please make sure to use the 5Ghz band and not 2.4 as 2.4Ghz band can achieve about 50-60 Mbps but usually not more, where 5Ghz band can achieve about 400-500 Mbps over wireless connections but only when both the WiFi AP and the device connecting within the same room without obsticles between them (as soon as you move to another room, your connection will have inconsistant speeds or may disconnect).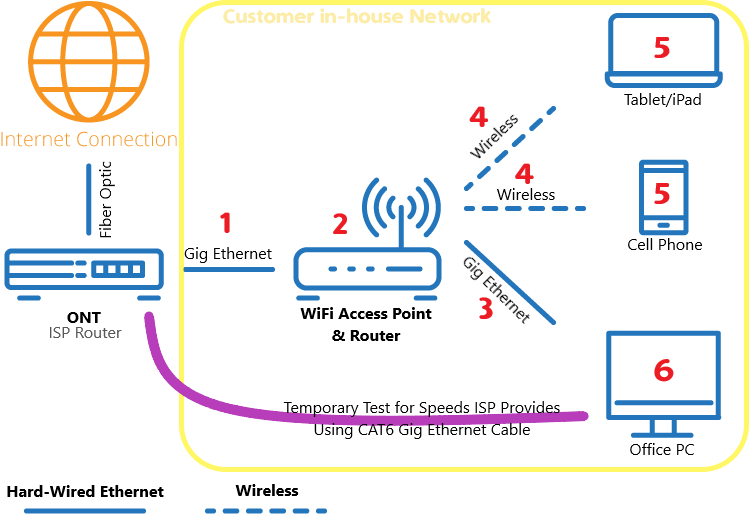 Above diagram displays how your home network commonly is connected. When you are trying to troubleshoot, you want to find where the problem may be and the easiest way to check to see if the issue is on FiberCast side or within your network will be testing at the ONT Gig Ethernet port by disconnecting your home network and connecting your computer (or laptop that has Gig Ethernet port) directly to the Gig Ethernet (the purple line on the diagram above) than performing the speed test. If your results are good, you can than continue repeating the same test at different section of the home connections (red colored numbers 1 through 6 on the diagram).
Make sure you have a good CAT6 Ethernet cable (all 8 wires connected).
Make sure your WiFi AP has the latest firmware installed from the manufacturer. Rebooting this device may help time to time, specially if you had power loss recently.
Make sure you have a good CAT6 Ethernet cable.
Your wireless network will be the weakest point of connectivity as WiFi signals get effected a lot with obstacles and interference in the air which may be caused by other wireless devices at your home (like microwave, motors running like sump pumps, cordless phones, wireless alarm systems, etc).
Try rebooting your wireless device and make sure you wireless connectivity is using 5Ghz band (not 2.4).
Try rebooting your PC to give it a fresh start. If you are using Windows, it may be better to use SpeedTest App instead of using the web browser.
Finally, please contact us if you are having poor speeds when you are connected directly to ONT's Gig Ethernet port (assuming you have a fast computer to be able to run reliable speed test). Or if you like us to troubleshoot your in-house network, this additional service is available at our regular hourly rates.
We also found some informational videos on YouTube (below) which may be useful to you:
 Getting the Most out of Fiber Internet – Wired Connection
Getting the Most out of Fiber Internet – Wireless Connection
Netgear Orbi 6 (RBK852) vs Nighthawk AX12 (Gigabit Wifi AP Routers)
Netgear Orbi Wifi 6 (RBK852), Eero Pro 6, Asus ZenWifi AX (XT8), Amplifi Alien, TP-Link Deco X60, Linksys Velop MX10, and the Ubiquiti Unifi 6 Lite access point